Watchdog Calls on Pennsylvania Officials to Terminate Contract with Anti-Abortion Group For Wasting Millions of Taxpayer Dollars, Violating Pennsylvania Law
FOR IMMEDIATE RELEASE: July 14, 2020
Contact: Michael Clauw, mclauw@campaignforaccountability.org, 202.780.5750
WASHINGTON, D.C. – Today, Campaign for Accountability (CfA), a nonprofit watchdog group focused on public accountability, called on Pennsylvania Governor Tom Wolf, Attorney General Josh Shapiro, and Secretary of Human Services Teresa Miller to investigate and terminate the state's contract with Real Alternatives (RA), a non-profit organization that receives state funding to run Pennsylvania's Alternative to Abortion Services Program (AASP). The letter details the ways RA has failed to fulfill its duty to Pennsylvania families to provide adequate pregnancy and parenting services, while simultaneously inappropriately skimming money intended for service providers, and misappropriating public funding earmarked for certain operational expenses.
CfA Counsel Alice Huling said, "Pennsylvania taxpayers have shelled out tens of millions of dollars to Real Alternatives without receiving much benefit in return. Low-income women and children who need support deserve a program that helps them, not one focused on lining the pockets of its top executives."
In 1995, RA began receiving state funding when it was awarded $2.1 million to administer Pennsylvania's anti-abortion initiative. The program budget steadily increased, with RA receiving $7.2 million in state funds in 2019. RA's primary role as the administrator of the program is to recruit and reimburse service providers in Pennsylvania – many of which are crisis pregnancy centers (CPCs) that counsel women not to have abortions. In addition to its contract with Pennsylvania, RA also has also managed anti-abortion initiatives in Indiana and Michigan. In October 2019, Michigan Governor Gretchen Whitmer stripped RA's funding from the state budget after CfA outlined RA's failure to provide sufficient services.
Click here to read CfA's letter to Governor Whitmer.
CfA obtained thousands of pages of Pennsylvania state records discovering a myriad of problems with RA's administration of the AASP. Most significantly, RA mandates that service providers direct 3 percent of their revenue to RA for its own functions. RA skims this 3 percent fee on top of the annual $2 million the state pays RA for administrative and operational expenses. In 2017, the Pennsylvania State Auditor found this 3 percent fee to be an improper use of taxpayer funds and required RA to reimburse its service providers for 100 percent of the value of the services they provide. To end run the state, RA set up new contracts with its providers (to which Pennsylvania is not a party) requiring them to remit a 3 percent fee to RA after receiving the 100 percent reimbursements. RA's actions may violate Pennsylvania law and constitute failure to make required disposition of funds received or theft by deception.
RA has also drawn scrutiny from the Pennsylvania Department of Human Services (DHS) for using taxpayer money to fund legal battles under the state's Right to Know Law (RTKL). Entities performing a "governmental function" are required to comply with RTKL requests from taxpayers. In 2014, however, RA extracted $16,000 from DHS to pay for legal fees accrued from resisting RTKL requests. The state later acknowledged that this was an improper use of taxpayer funds and denied RA's similar request for $20,000 in May 2018. RA disputed the decision and DHS allowed RTKL fees incurred in FY 2019-2020 to be reimbursed through the grant agreement. RA's actions may constitute tampering with public records in violation of state law.
CfA's investigation also revealed the extraordinarily high salaries paid out to RA's executives. In 2018, RA's President and CEO, Kevin Bagatta, received $307,421 in total compensation and Vice President of Operations Thomas Lang earned $235,774. RA's salaries for its executives are far higher than those of top executives at similar organizations in Pennsylvania. For example, the CEO of the Pennsylvania Coalition Against Rape, which has an operating budget more than twice the size of RA's state contract, received a total annual compensation of approximately $150,000, less than half that of Bagatta.
Additionally, RA's advertising budget has grown from approximately $61,000 in FY 2014/2015 to $750,000 in FY 2018/2019, a twelve-fold increase. Despite the significant increase, RA served nearly 1,000 fewer clients, with 10,000 fewer visits, in FY 2018/2019 than it served five years earlier. Demand for pregnancy and parenting services are not cyclical, yet RA's advertising expenditures are heavily skewed toward the end of each year.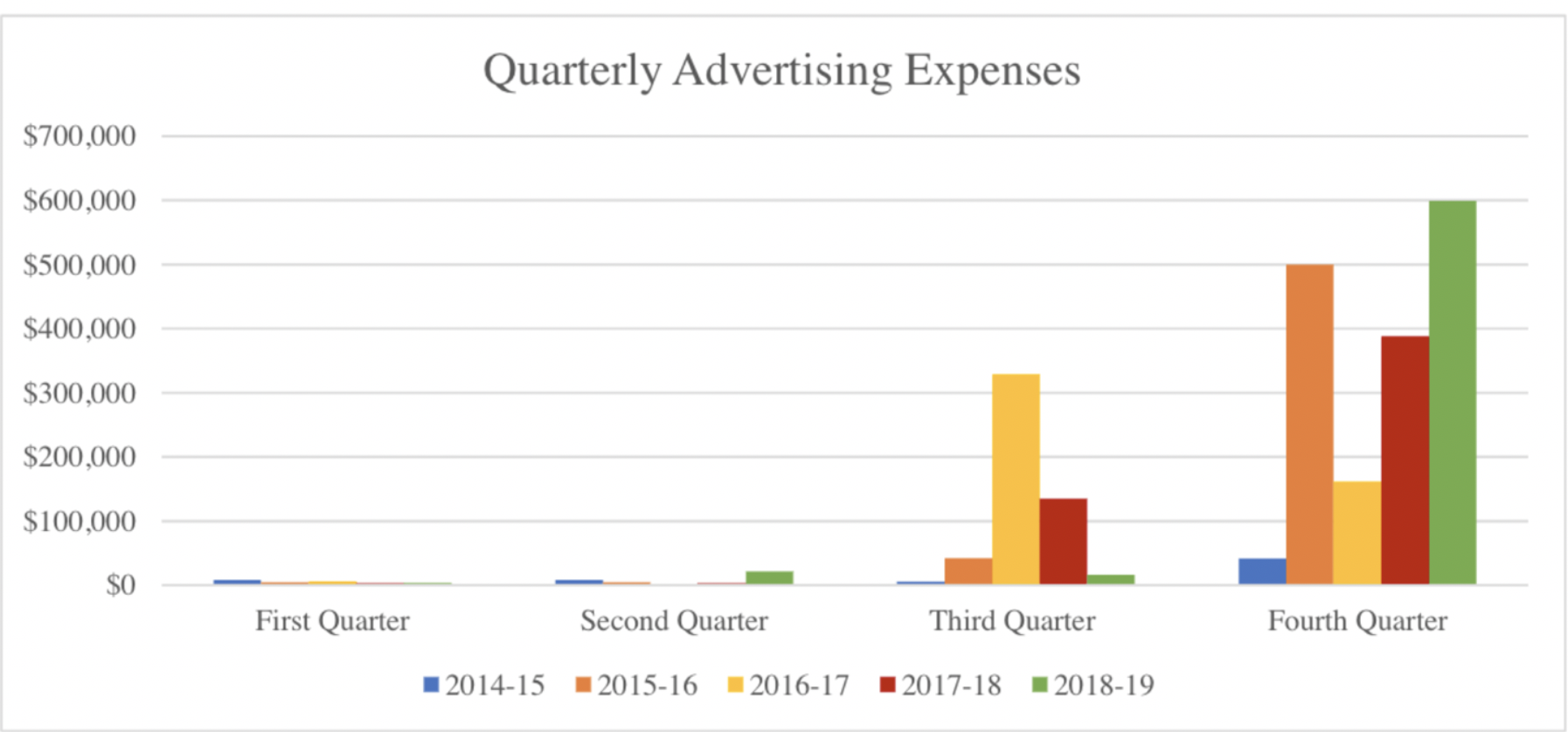 RA regularly uses its marketing materials to promote its LIFEAID hotline, a toll-free referral system. In FY 2018/2019, the hotline received only 52 calls in the entire year, yet RA spent more than $6,000 to maintain the line, with each call costing taxpayers approximately $119.
Amid the many legal questions and wasted taxpayer dollars surrounding RA's mismanagement of the AASP, CfA called on Pennsylvania officials to immediately terminate RA's contract, so that funds may be allocated to organizations with a demonstrated ability to provide efficient and effective services to Pennsylvania families.
Ms. Huling continued, "Real Alternatives has been bilking Pennsylvania taxpayers out of tens of millions of dollars for nearly 25 years. Governor Wolf should follow Governor Whitmer's lead, cancel RA's contract and instead fund organizations that provide services women and children need."
Campaign for Accountability is a nonpartisan, nonprofit watchdog organization that uses research, litigation, and aggressive communications to expose misconduct and malfeasance in public life and hold those who act at the expense of the public good accountable for their actions.
Summary:
Full letter: