Memo: Background on Local Election Officials
MEMO
TO: Interested Parties
FROM: Michelle Kuppersmith, Executive Director of Campaign for Accountability
DATE: October 27, 2020
RE: Background On Local Elections Officials
Local elected and appointed officials, especially county clerks, play a vital role in federal, state, and local elections. They coordinate poll workers, oversee polling places, and assist in coordinating and administering voter registration and related issues. In fact, during the 2016 general election, counties coordinated over 700,00 poll workers and over 100,000 polling places. Looking to the 2020 general election, these duties could include executing on directives from judges and officials on pertinent issues, including the administration of absentee ballots.
In addition, at times and in certain states, cities or townships run elections, and are involved in the duties of county clerks, who are the primary election administrations. Municipal clerks — also called city, village, or township clerks, depending on the community they represent — can play key roles. For example, they may select polling locations; purchase, maintain, test, and certify voting machines; train poll workers and appoint boards of canvassers; and distribute absentee ballots. On the day itself, municipal clerks and the poll workers they have recruited operate the polling places. The municipal clerk then oversees the counting of votes and relay the returns to their respective county clerk by election night. They are also responsible for composing a "canvass report," in which they are to describe how the electoral process went and detail any notable events that occurred over the course of the day that could have affected the vote.
The importance of clerks to the American electoral process came into sharp relief in April 2020, when Wisconsin held a court-mandated in-person spring election during the harrowing first months of the COVID-19 pandemic. Poll workers, a majority of whom are older than 60, resigned in droves due to understandable health concerns in anticipation of the April 7 election, resulting in widespread closures of polling locations. [NPR, 4/6/2020]  Consequently, election officials foresaw voters packed into concentrated spaces, compounding the threat of coronavirus transmission.
So, in Wisconsin's highly decentralized electoral system, county and municipal clerks were suddenly tasked with ensuring the sanctity of democracy amid an unforeseeable crisis. The election proceeded as planned, but many clerks are concerned about what the November election holds in store.
Over the past three months, the Milwaukee Journal Sentinel, Columbia Journalism Investigations and FRONTLINE interviewed more than 50 clerks across Wisconsin, finding that many are concerned about a repeat of the state's messy April primary, when thousands of absentee ballots went missing or reached voters late.
From farming towns to major cities, clerks' worries ranged from the labor-intensive absentee ballot process to their distrust of the postal system to the ever-changing directives from judges and officials.
Clerks said that few people understand the behind-the-scenes work that goes into processing an absentee ballot: from verifying IDs to entering information into state databases to stuffing envelopes. That's not to mention all the work clerks do tracking down voters who made mistakes on their forms, preparing for in-person voting or completing non-election related duties. [Frontline, 7/24/2020]
FLORIDA
Duval County Clerk Ronnie Fussell
Duval, FL County Clerk Ronnie Fussell Ended Affordable Courthouse Weddings in Jacksonville the Day Before Same-Sex Marriage was Legalized "Fussell, a local political insider who has a big cash advantage in the race, said at the time that some of his staff felt uncomfortable performing same-sex marriages and that he himself believed marriage should be between a man and a woman." [Florida Politics, 6/23/2016]
MICHIGAN
Kent County Clerk Lisa Posthumus Lyons
Lisa Posthumus Lyons Expressed Her Public Support For President Trump "'I support President Trump and the policies that are coming out of his administration. You cannot argue with the results that we're seeing, from tax cuts to American hard-working families to rule of law judges that are taking the bench throughout the nation,' Posthumus Lyons said in a media scrum after her candidacy was unveiled." [Michigan Live, 1/30/19]
WISCONSIN
Washington County Clerk Ashley Reichert
Washington County Clerk Ashley Reichert Attended a Training in 2016 at American Majority, a Conservative 501c3 "Today we reconnect with Ashley Reichert who just won her election to become the County Clerk for Washington County Wisconsin.  Ashley attended our candidate training in the early spring of 2016 in Mequon, Wisconsin.  She is outside the norm for elected officials in Wisconsin as this was her first time running, and she is only 27 years old.  She describes herself as "extremely excited" to take on her new role. Ashley was a stay at home mom up until late 2012 when she started working for Washington County in Planning and Parks where she enjoyed improving efficiency and updating processes to make government run more smoothly.…..Ashley credits American Majority's Campaign training with helping her to focus her efforts on reaching the voters." [American Majority, 12/6/2016]  
Ashley Reichert Said She Was Guided By The 'Conservative Principles' She Was Raised On "'While my primary focus during the summer months will be knocking on doors and meeting one on one with residents of the county," said Reichert. "I also plan to launch an aggressive social media campaign to help better acquaint myself with residents from Richfield all the way north to my hometown of Wayne.  I'm guided by my faith and the conservative principles I was raised on, the same values and strong moral compass that I believe reflect our beautiful county.'" [Washington County Insider, 5/11/6]
Town of Lisbon Clerk Kathy Nickolaus
Town of Lisbon Clerk Kathy Nickolaus Allegedly Miscounted Vote Totals in a 2011 Election in Waukesha County, When She Was County Clerk "For the 2011 tight Supreme Court race, she failed to include 14,000 votes from Brookfield in her unofficial totals. The error led to a statewide recount. It also reversed a close loss for Justice David Prosser to a 7,000-vote victory over his opponent, JoAnne Kloppenburg."[Milwaukee Journal Sentinel 7/22/2020]
Kathy Nickolaus Worked For David Prosser While He Was A State Legislator "Questions swirled about whether Nickolaus, who worked for Prosser when he was a Republican legislator, was trying to stack the election for her former boss." [Associated Press, 9/28/11]
Kathy Nickolaus Allegedly Violated State Law by Failing to Post Timely Election Results Online During the April 3, 2012 Election in Waukesha County "The Milwaukee Journal Sentinel also reported that a state Government Accountability Board investigation found that Nickolaus violated state law in how she reported election results. But it was not of criminal intent, the investigation revealed. During the April 3, 2012, election, Nickolaus failed to post timely election results online and update them periodically for the public, as she said she would. After voting ended, residents did not know the election results hours afterwards. This resulted in reporters and data collectors in election reporting to resort to tabulating contested races from yards of paper tapes hanging on walls around a meeting room." [Milwaukee Journal Sentinel 7/22/2020]
Kathy Nickolaus Granted Immunity in 2001 By Authorities Investigating Illegal Campaign Activity in Wisconsin "Others granted immunity thus far include Assembly Republican caucus workers Kathy Nickolaus, Melanie Hartsough and Kacy Hack, plus former graphic artist Eric Grant. Susan Egger, administrative assistant for the Assembly Democratic caucus, was also granted immunity." [Milwaukee Journal Sentinel 11/26/2001]
Kathy Nickolaus "Scoffed at Complying with Impartial Audits" and Refused to Stop Using Personal Computer for Sensitive Files "Nickolaus has actually scoffed at complying with impartial audits, thumbing her nose at critics. A move that drew a sharp reaction at the time from the County Board Chair: 'There really is nothing funny about this, Kathy,' said Waukesha County Board Chairman Jim Dwyer when Nickolaus willfully ignored complying with the earlier impartial audit. 'Don't sit there and grin when I'm explaining what this is about.' "The County auditors said it was eminently possible — including historical precedent — for Nickolaus or a rogue employee to tamper with data. Why? Nickolaus insists on controlling password access and has unilaterally decided to move sensitive files, like election results, onto her personal computer."  [Common Dreams, 4/7/2011]
Waukesha County Clerk Gina Kozlik
Waukesha City Clerk Gina Kozlik Defends Trump in 2016 After Wisconsin's Government Accountability Board "Looked Into" Trump Visit to Polling Location 'Trump met voters outside Waukesha Fire Station No. 5 at 3051 Summit Ave., which doubled Tuesday as a polling place, prompting concerns that he was within the 100-foot perimeter. "The question is was he in the polling location and we have confirmed with my chief that he was not in the polling location today. He was outside the 100 feet, up over the hill," Waukesha City Clerk Gina Kozlik said. "It is a big nonissue."' [Wisc. ABC, 4/5/2016]
Kozlik Implemented Changes for 2020 General Election to Efficiently Count Ballots "Clerks from a number of Wisconsin's largest cities say they've implemented changes to efficiently count ballots. In Waukesha, City Clerk Gina Kozlik said she's abandoning the central count system the city has used for the past several years for a system where absentee ballots get counted at the polling place. That's the system most municipalities use, including Madison. Kozlik said she had concerns about a large central count operation during the pandemic, and thinks it will help make more efficient use of staff and voting machines. Kozlik said she likely wouldn't have had enough machines to accommodate both the number of in-person Election Day voting locations as well as a separate, central count facility used exclusively for absentee ballots." [Lacrosse Tribune, 9/24/2020]
Village of Cazenovia Clerk Robin Landsinger
Robin Landsinger Reposted A Tomi Lahren Facebook Video Excoriating Beyonce, Jay-Z for Not Standing for National Anthem "Beyoncé and Jay-Z can't stand? You hate police, Donald Trump, and the spirit of this nation so much you can't pick your privileged butts off the chair for 2 mins to pay some respect? Despicable." [Facebook, 2/3/2020]
Village of Loganville Clerk Donna Hahn
Donna Hahn Reposted Multiple Facebook Posts Disparaging Undocumented Immigrants, Black Lives Matter Movement
[Donna Hahn Facebook, 1/12/2013]
[Donna Hahn Facebook, 9/20/2015]
Village of Springs Green Clerk/Treasurer Wendy Crary
Wendy Crary Expressed Her Support For Trump On Twitter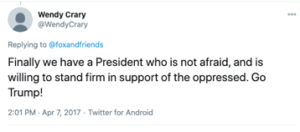 [Wendy Crary Twitter, 4/7/2017]
Wendy Crary Liked Numerous Inflammatory Tweets from Trump, Fox and Friends, Conservative Commentators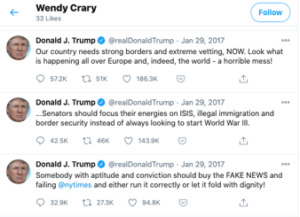 [Wendy Crary Twitter, accessed 10/8/20]
IOWA
Secretary of State Paul Pate
Iowa Secretary of State Paul Pate Blocked County Auditors From Sending Pre-Filled Absentee Ballot Request Forms to Voters "In the July directive, Pate ordered auditors to only distribute blank absentee request forms. Iowa's GOP-controlled Legislative Council approved the directive, and Pate's office is set to mail out blank request forms in the coming weeks. Last week, in separate cases, Iowa judges invalidated 50,000 ballot requests in Linn County and 14,000 requests in Woodbury County because the voters in question had used forms with pre-filled information." [The Hill, 8/31/2020]
TEXAS
Williamson County Clerk Nancy Rister
Williamson County Clerk Nancy Rister Has a Long History as a Republican Party Volunteer, Leader, and Officeholder [NancyRister.org]
###
Campaign for Accountability is a nonpartisan, nonprofit watchdog organization that uses research, litigation, and aggressive communications to expose misconduct and malfeasance in public life and hold those who act at the expense of the public good accountable for their actions.